Gold Fireflex® Gear Bag
Gold Fireflex® Gear Bag
If you have a custom logo you'd like embroidered on a bag, please use the form HERE to give us the details.
502 in stock
The Firefighters Merchandise Fireflex® Gear Bag is a step-in turnout gear bag w/ shoulder strap, large helmet pocket and the first ever integrated removable SCBA mask bag.  The SCBA mask bag integrates onto the end of the gear bag with heavy duty plastic clips and Velcro.
This one and only gear bag design makes it easy to place your SCBA mask on and off the apparatus without removing it from the bag.  The SCBA mask bag also has convenient pockets for the small items, like eye glasses and personal belongings you may want to keep on the truck stored away safe.
The Fireflex® gear back is large enough for all you bunker gear storage needs.
Bag Dimension 32″X18″X18″
Additional information
| | |
| --- | --- |
| Weight | 2 lbs |
| Dimensions | 32 × 18 × 6 in |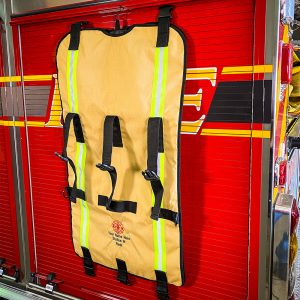 Looking for a durable, protective option for storing your second set of gear? We have you covered. The Fireflex Class A Uniform Bag provide a travel bag for your entire class A uniform and all additional accessories you need to bring with you. Jacket, pants, hat, gloves, shoes…the first safe and durable way to store or travel with your whole class A uniform in style.
$

79.99