Gold Fireflex® Gear Bag
Gold Fireflex® Gear Bag
If you have a custom logo you'd like embroidered on a bag, please use the form HERE to give us the details.
753 in stock
The Firefighters Merchandise Fireflex® Gear Bag is a step-in turnout gear bag w/ shoulder strap, large helmet pocket and the first ever integrated removable SCBA mask bag.  The SCBA mask bag integrates onto the end of the gear bag with heavy duty plastic clips and Velcro.
This one and only gear bag design makes it easy to place your SCBA mask on and off the apparatus without removing it from the bag.  The SCBA mask bag also has convenient pockets for the small items, like eye glasses and personal belongings you may want to keep on the truck stored away safe.
The Fireflex® gear back is large enough for all you bunker gear storage needs.
Bag Dimension 32″X18″X18″
Additional information
| | |
| --- | --- |
| Weight | 2 lbs |
| Dimensions | 32 × 18 × 6 in |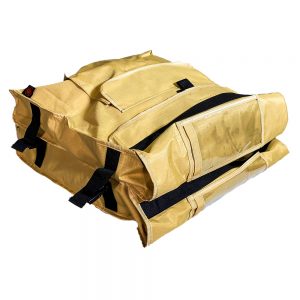 Looking for a durable, protective option for storing your second set of gear? We have you covered. The Fireflex 2nd set PPE inventory bag has options to fit one bunker coat, one bunker pant, a set of gloves and a hood. It's separable into two bags case you want to take only your pant or coat and leave the other in the storage room or your gear locker. The bag has durable webbing and buckles which attached the coat and pant bags together and is reinforced throughout assuring the bag will last. The bag system has backpack straps making it easy to carry your set of gear if you are swinging stations or attending outside training. Plastic name sleeves are installed on the flap of each bag allowing you to use these bags for inventory in the stock room or PPE warehouse and easy label your gear for efficient tracking. The flaps of each bag also have reinforced eyelets allowing each bag to be secured with security ties indicating that gear has not been tampered with after its last cleaning and inspections. The 2nd set PPE bag is the only one of its kind and is the perfect option for securely storing your second set and keeping it protected.
$

38.99