Black Fireflex® Backpack
Black Fireflex® Backpack
The Firefighters Merchandise Fireflex® backpack is well–suited for any excursion with sturdy hardware attachments and abrasion–resistant fabric. Specialized pockets inside and out keep gear stored securely and separately, including a padded laptop sleeve that accommodates most 15" devices.
This durable Fireflex® backpack is made of Firefighters Merchandise proprietary Fireflex® ripstop polyester/PVC fabric for long-lasting advertising.
Keep electronics, daily essentials and other valuables separate and protected in any conditions.
The large main zippered compartment features a padded panel that can hold most 15″ laptops.
Side zip pockets provide quick-access storage for your keys, cellphone and other small items.
Features an adjustable waist strap for additional support.
Adjustable, padded shoulder straps and padded back panel provide support when carrying heavy loads.Size: 20″ x 16″ x 8"
Out of stock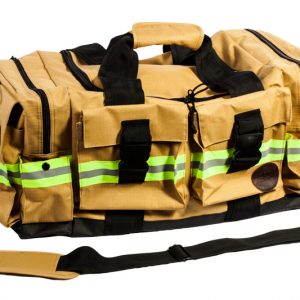 August, 2018 - currently out of stock. We expect them November/December 2018 The Firefighters Merchandise Gold FireFlex® Duffle Bag has fire fighter style with unprecedented quality and can be compared to no other bag on the market. External pockets on both ends of bag with heavy duty durable zipper closures Two large front pockets with heavy duty plastic clip and hook and loop closure Two small front end pockets with snap closures for your small belongings or keys padded removable shoulder strap keeps carrying comfortable Padded tablet or laptop sleeve integrated into the bag Moisture resistant lining throughout the bag making it easy to wipe out as well as keep your items dry Abrasion-resistant bottom offers enhanced durability 50L capacity 27" H x 14" W x 14" D 100% FireFlex® (The bag is not made from FR rated materials. FireFlex® is a proprietary material GCS has developed for the purpose of solely manufacturing its Firefighter Accessories) ABRASION RESISTANT Advancements in materials enhance durability to improve resistance against everyday wear-and-tear, extending longevity to ensure a full product life of dependable usage.
$

84.99
This bag is made from 100% Fireflex®  (The bag is not made from FR rated materials.  Fireflex is a proprietary material Firefighters Merchandise has developed for the purpose of solely manufacturing its Firefighter Accessories)
Additional information
| | |
| --- | --- |
| Weight | 2 lbs |
| Dimensions | 20 × 16 × 3 in |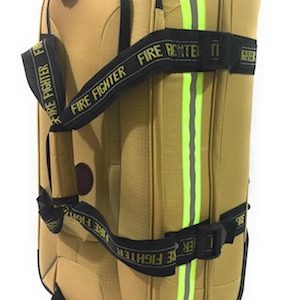 The Fireflex® Rolling Duffle Bag is a large, versatile travel or out-of-county bag with the extreme durability. The duffle bag has a large drop-bottom compartment with hold down straps for securing your belongings. Included are two side storage compartments for your shoes and other travel needs. Pull the duffle with a heavy duty locking, telescoping handle which extends 41 inches. The duffle rolls on extra large, durable rubberized wheels allowing you to easily take all your travel necessities wherever you may adventure. You won't find a more durable, quality aggressive looking rolling duffle bag on the market. Bag dimension are 30" L X 18" W X 18" D .
$

159.99