Black Fireflex® Tactical Rifle Case
Black Fireflex® Tactical Rifle Case
Keep your weapons safely stored and away from prying eyes with this  Firefighters Merchandise Fireflex® Tactical Rifle Case. This item offers durable firearm protection. The Fireflex® Tactical Rifle case is constructed with a heavy-duty Fireflex® Ripstop exterior and thick foam padded sides to eliminate the worry of bumps and dings in the back of the truck. In this way, your weapon is not just shielded from potentially malicious eyes but also well guarded from wear and tear during transport.
Out of stock
The case features full-length zippers and easy-carry handles for added convenience. This Fireflex® Tactical gun case measures 42.5″ in length. It also comes with a removable and padded shoulder strap and a Velcro wrap carry handle.
Additional information
| | |
| --- | --- |
| Weight | 1 lbs |
| Dimensions | 42 × 13 × 2 in |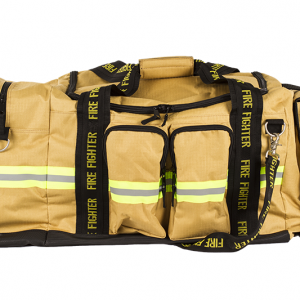 The Firefighters Merchandise Fireflex® Gear Bag is a step-in turnout gear bag w/ shoulder strap, large helmet pocket and the first ever integrated removable SCBA mask bag.  The SCBA mask bag integrates onto the end of the gear bag with heavy duty plastic clips and Velcro. This one and only gear bag design makes it easy to place your SCBA mask on and off the apparatus without removing it from the bag.  The SCBA mask bag also has convenient pockets for the small items, like eye glasses and personal belongings you may want to keep on the truck stored away safe. The Fireflex® gear back is large enough for all you bunker gear storage needs. Bag Dimension 32"X18"X18"
$

74.99
Rated 5.00 out of 5